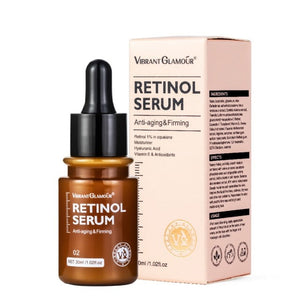 Your body naturally produces less collagen as you get older. In your mid-to-late 20s, metabolism slows down and skin starts to age. This is why fine lines and wrinkles appear. The skin becomes loose, dull and coarse.
Vibrant Glamour's Retinol Anti-Aging And Firming Face Serum fades fine lines and provides deep care essence. Vibrant Glamour's formula of Double Retinol + Squalane accelerates collagen regeneration, fades dry lines and fine lines, tightens of the skin, eliminates dullness and roughness and increases elasticity of skin.
The results of using Vibrant Glamour Face Serum are visible in only 4 weeks. In the first week, skin has many fine lines and wrinkles. In the second week, wrinkles reduce and skin becomes elastic. By the fourth week, the fine lines and wrinkles are gone and the skin becomes tender, firm and elastic.
Size: 30 ml
Usage: Apply appropriate amount of the product on the palm, smear evenly on the face with the finger and massage until absorbed.