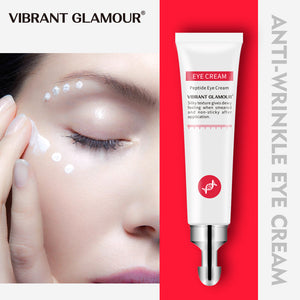 Nowadays numerous eye skin problems are becoming very common. The stress of the daily life makes your eyes very tired and causes eye puffiness, dark circles, etc. This can age your skin and can cause wrinkles over time.
Fortunately, there is a solution for all of that. The Vibrant Glamour Eye Cream is designed to effectively address all your eye skin concerns. This cream gradually diminishes dark circles, eye bags, and eye sagging. It tightens lose skin and keeps your skin wrinkle free. It serves three main functions:
Smooths fine lines - Instantly nourishes the skin around your eyes with moisture, restores the resilience, and smooths fine lines.
Mitigates eye fatigue - Moisturizing the skin around the eyes provides relief from eye fatigue.
Nurtures eye area - Repairs and restores the delicate skin around your eyes, and nurtures your skins with abundant nutrients.
Caution: Every person is different. So before using, please first test it on the inside of arm to check if the product would be suitable for your skin.
The product came within a few days, it has a thin, pleasant aroma, delicate texture, and after applying, the skin becomes soft, thank you. I think that i will order more.
perfect! I started using it, it is very good for eyes!!!!
The order was received on august 5. Delivery is very fast. The cream is good, i really like it.