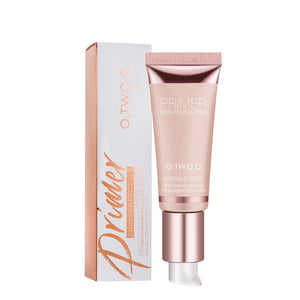 The O.TWO.O face primer is a light, hydrating gel that should be used before applying make-up. It hides oil and pores, evens out skin tone, and extends the life of foundation. It's also fragrance and oil free, and it won't clog pores or disrupt the skin's natural moisture balance. Those with dry, sensitive, or aged skin can benefit from it.
This face primer is a fantastic solution that leaves skin looking beautiful. It refines skin texture, minimises pores, and leaves a matte, silky finish. This foundation primer is perfect for layering over your favourite foundation. This product may be used to produce a long-lasting cosmetic appearance. It can be worn alone or in conjunction with foundation. There is no need to bother about reapplication because it lasts a long time.
This primer provides a matte finish while improving skin texture and reducing pores. It may be blended with your preferred foundation to extend the life of your makeup. It also gives your face a lovely shine and lustre. For a natural, radiant look, apply it alone or blend it with your preferred foundation.