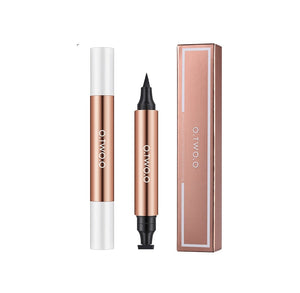 If you're looking for the perfect winged eyeliner, look no further. O.TWO.O Stamp Black Liquid Eyeliner lets you achieve the look of a pro without the mess or fuss!

EYELINER PEN WITH TWO ENDS - Each wing eyeliner stamp tool pen has two ends. One end is for stamping, while the other has a very small point for precisely delineating the rest of the eye. For a more dramatic look, you may even utilise the size of the liner as a stencil.

WATERPROOF & LONG-LASTING - This Long-Lasting Eyeliner has a quick-drying formula, is waterproof, sweatproof, and oil-resistant, and does not smudge for a long time. You can party with this waterproof eyeliner on all night long. You can even use it if you're swimming.

PERFECT WINGS EVERY TIME - Creating the perfect eye liner wings has never been easier. To make the identical wing on both sides, line up the stamp from the corner of your eye to the end of your brow. Each stamp eyeliner has a natural cat eye effect.

EASY TO USE - This stamp makes it simple to create gorgeous eyeliners, whether you're a novice or a seasoned pro. Eyeliner thickness may be regulated based on strength and angle, making it simple to draw a precise eyeliner.