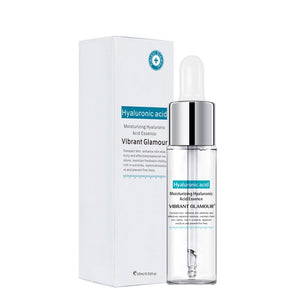 Hyaluronic acid is naturally produced by your body. The largest amounts of it are found in your skin. It is a natural moisturizing agent and it naturally moisturizes your skin. Its main function is to retain water to keep your tissues well lubricated and moist.
However, with time, the skin becomes loose, rough and dry. This happens because over time, the skin loses its ability to retain water. In other words, the skin ages and this results in a loss of moisture. Since the key molecule involved in skin moisture is hyaluronic acid, skin aging results in a decrease in the amount of hyaluronic acid produced by the body.
Hyaluronic acid is necessary for your skin to prevent it from aging.
Vibrant Glamour Hyaluronic Acid Moisturizing Essence rejuvenates, hydrates and nourishes your skin. It reduces pores, repairs damaged skin and moisturizes dry and rough skin. It makes your skin soft and smooth.
This moisturizing essence has high concentration of hyaluronic acid and effectively penetrates to the bottom of the skin to provide maximum moisture to the skin.
This product is suitable for dry skin, oily skin, rough skin and even normal skin. There is no age restriction to this product. The earlier you use it, the better the long-term effect will be.